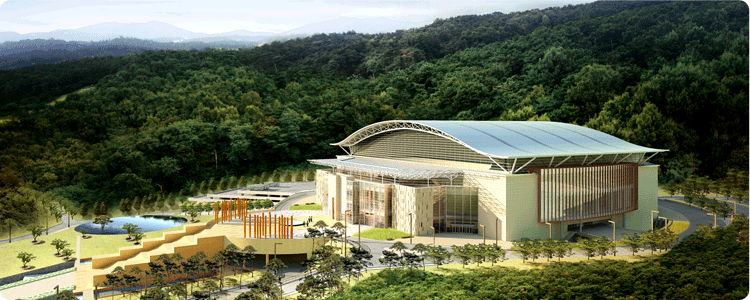 The Cheong Shim Peace World Center seeks happiness centered on the family. On March 22nd, 2012, the Center opened a Compound Cultural and Arts Exhibition, with the slogan, "A guide for creating a culture of values, fulfillment and happiness."
The Center is the largest indoor arena in Korea with a seating capacity of 25,000. As it is eight times larger than Sejong Performing Arts Center and twice as large as the Olympic Gymnastics Hall, it is a world-class venue that surpasses other Korean stadiums. The Cheong Shim Peace World Center boasts a theater-style stage apparatus complete with a sound and lighting system, a four-sided LED electronic display board, folding chairs and additional features, for the optimum event experience.
Additionally, as the first Korean arena with folding chairs, a state-of-the-art moving stage and an AV system, the Cheong Shim Peace World Center offers a different experience from other traditional facilities. The Cheong Shim Peace World Center holds limitless potential as a venue for cultural experience. Event capacity includes concerts, musicals, special exhibitions, concerts and festivals. The Center also can serve as a site for international business conventions, corporate events, indoor sports competitions, educational events, expositions and television commercials.